Michael Soon Lee, an Asian American author, talks about how Asian Americans are fighting a constant war of identity crisis, and how it leads to the ongoing mass shooting in America.
SAN FRANCISCO, CALIFORNIA, February 1, 2023 — Michael Soon Lee, an author, professional speaker, and trainer on diversity, equity, and inclusion has written another book, Beyond the Bamboo Curtain: Understanding America's Invincible Minority. 
The book enlightens readers on the typical Asian American experience, mostly absent from history books, distorted by the media, and the resultant negative stereotypes. It also presents a first-hand experience of the author, Lee, a 5th-generation Chinese-American, and his struggles with systemic discrimination.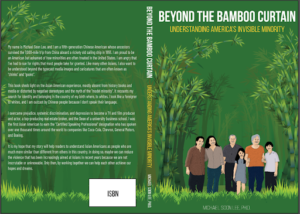 Beyond the Bamboo Curtain: Understanding America's Invisible Minority
His detailed book also talks about his occupational ascent from a TV and film producer, actor, a top-producing real estate broker, to the Dean of a university's business school. A journey plagued with prejudice and discrimination. 
Despite Asian Americans being the Model Minority – a term that describes Asians as studious, hardworking and committed to family, there have been racial attacks on them in the last few years. Lee explains in his book that the recent mass shootings perpetrated by Asians are due to years of repressed anger, discrimination in the workplace, police brutality, and unacceptance of Asians in America.
He finishes off with three reasons why Asian Americans and Pacific Islanders (AAPI) are the least likely to get help for their mental health issues. First, Asian Americans are stigmatized for seeking help outside their family. Secondly, the AAPI community frowns on discussing personal issues with people outside the family. Such action is seen as a weakness. Third, the overwhelming stressor of the identity crisis for Asians living in America. 
His book explains that the negative role media play by describing Asians as disloyal to America causes the last stressor – identity crisis. 
Speaking about his book in an interview with 9-Figure Media, Michael Soon Lee said, "I am a fifth-generation Chinese American whose ancestors survived a 7,000-mile trip from China aboard a rickety old sailing ship in 1868. I am proud to be an American, but ashamed of how minorities are often treated in the United States."
When asked how he achieved success despite discrimination, he continues, "I had to overcome prejudice, systemic discrimination, and depression in the country I was born in. I faced the labels of being referred to as Gook or Chink. Despite all these, I became the first Asian American to earn the Certified Speaking Professional (CSP) from the National Speaking Professionals (NSP)." 
About Michael Soon Lee
Michael Soon Lee, Ph.D., is a professional speaker and trainer on diversity, equity, and inclusion. He has spoken over 1,000 times around the world to companies like Coca-Cola, General Motors, Boeing, and many others. He is also the author of the upcoming book, "Beyond the Bamboo Curtain: Understanding America's Invisible Minority". He can be reached by calling (925) 864-8848 or by emailing: [email protected]
As a public speaking professional, he has been listed as one of the Top 5 Diversity Speakers in America by the Speakers Platform Speakers Bureau. As an award-winning marketing guru, Michael has spoken about selling to thousands of multicultural customers around the world for over 14 years.
Media Contact
Company Name: EthnoConnect
Contact Person: Michael Soon Lee
Email: [email protected]
Website: https://www.ethnoconnect.com/
Country: United States